Cape May Rear Mount Bike Basket with Cage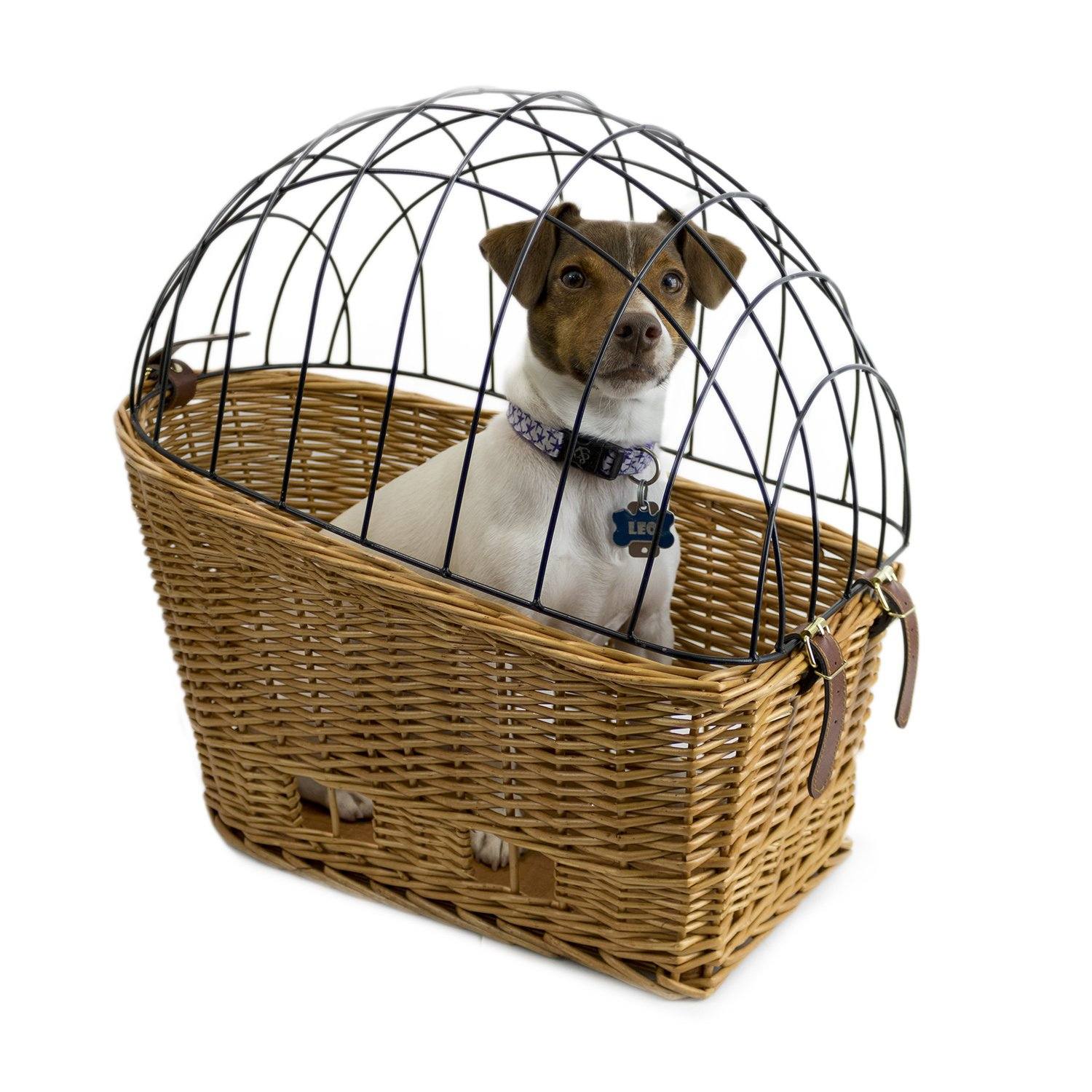 Cape May Rear Mount Bike Basket
Cape May is the furthest point of the South Jersey Shore. It's the crown jewel of the region with gorgeous sandy beaches and an old-world town center filled with gingerbread Victorian houses and quaint bed and breakfasts. Cape May has a nice selection of dog friendly accommodations. Bicycle lovers with dogs are encouraged to take their four-legged friends for a ride on the boardwalk during the off season.
Our Cape May basket has one of the best carrying capacities of any hand crafted wicker basket we make. It can hold dogs up to 28 lbs by mounting to your rear bicycle rack (not included). This natural willow basket uses a reinforced double weaving technique with a solid 1/2 inch thick wood bottom to give it maximum strength while taking your companion for a ride. Due to its rear mounted location we recommend always using the included cage. If you want to carry your pup without the cage please order two basket leashes.
Height under cage is 18 inches. Please ensure your dog will fit while sitting prior to ordering.
Even without your dog, this basket has so many uses. It holds a ton. You won't be able to make excuses for not taking your bike to the market.
Includes rear cage with faux leather straps! And steel mounting hardware to mount to your rear bicycle rack. Uses small thumbscrews.
Please see our complete line of basket accessories for beautiful handmade liners and pillows that fit this basket.
Will your dog fit? See our Fit Guide to ensure a proper fit.
Basket ships with steel rear mounting bracket (the bracket is already attached to the basket) to install on your rear bike mount with easy to use thumbscrews. Minimal assembly required.
**IMPORTANT** PLEASE MEASURE YOUR RACK: Our mounting bracket can accommodate racks 5 to 6 inches wide. 6 inch wide racks are the industry standard but some bikes come with preinstalled racks from the manufacture and they are increasingly using custom racks that are wider or narrower than normal. Be aware: Many electric bicycles with rear battery packs will not fit.
Product Dimensions:
Shape

Long "D". Taller in back than in front.

Dimensions


Bottom inside dimensions - 8 x 16 in

T

op inside dimensions - 10 x 19 in

Height of basket wall - 7.5" in the front, 11.5" at the rear (Height is reduced one inch when using a pillow)

Height under cage - 18 in
 
Recommended for dogs up to 28 lbs
Material
Willow
This is a handmade product: Dimensions may be off by as much as 1/2 inch
Designed by Beach and Dog Co and sold exclusively on beachanddog.com
30 Day money back guarantee on all products. Lifetime quality guarantee on all baskets
Perfectly Perfect
This basket fits on my bike and my little Yorkie comes with us on bike rides. It is safe for him to be in the basket and it is an easy open and close. It is a win/win!
Happy Trails Ahead!
We have electric bikes that make front baskets impossible to mount. Until we found these baskets out two Havanese had to stay home. These baskets are PERFECT. Dogs are comfortable and secure. Highly recommend them.
Wonderful
My poodles really like this wonderful basket. They enjoy the ride and can move around. The basket is very sturdy and stays on the bike very well. I did another review but I wanted to add a photo. I am so happy we found these baskets for our bike for our dogs!
Nice sturdy basket
My husband and Bubba enjoy riding the motorcycle together.
Enjoying the dog days of summer!
The rear basket is well-made and secured easily to my bike thanks to the clear instructions. I've taken my dog for several rides, and there is no wobbling or cause for concern.
Teddy is probably at the upper end of the weight range (18 or 19lb) and while I am unable to fit him and the cushion in the basket, I'm still pleased with the liner as it protects the wicker. Both products exceeded my expectations - thanks for such a great product!