Monterey Front Mount Bike Basket With Cage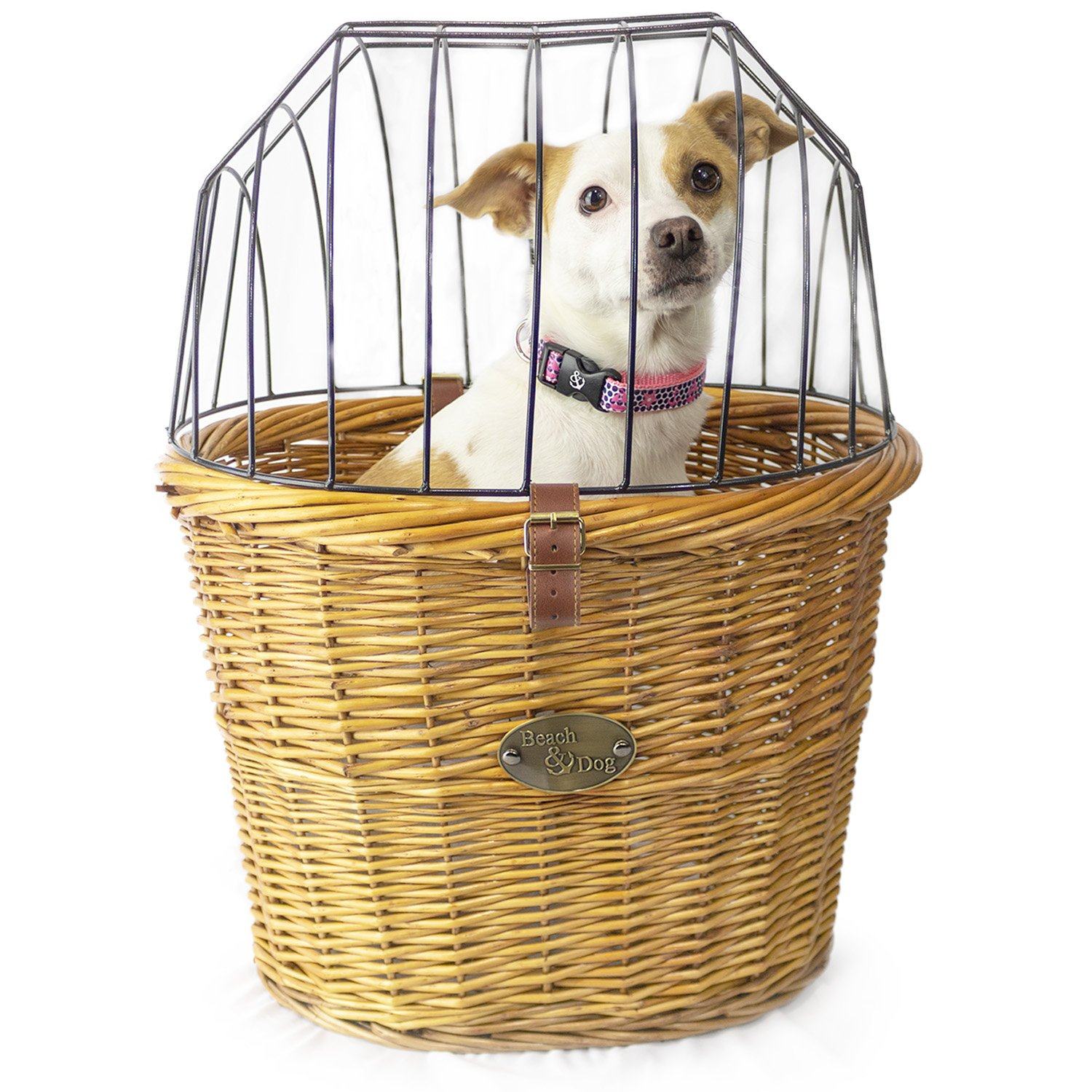 Monterey Front Mount Bike Basket
South of the Monterey Beach Hotel resort, Monterey State Beach is a beautiful dog friendly beach where you and your pooch can walk on the beach while collecting driftwood and rare seashells. The beach is home to many type of marine mammals, including sea otters, harbor seals, and bottle nose dolphins. With miles of scenic bike trails, you and your best friend can spend hours cycling around this small slice of heaven on earth.
Our Monterey front mounted basket is designed around a metal frame for maximum durability and coated with a clear resin to protect the lovely hand woven willow from the salt air and sun. It includes metal hooks that connect to your handlebars or to the basket brace, and a coated steel cage to keep your valuables from blowing out (or jumping out!) while you ride. This is the largest bike basket you can purchase for your pet.
Height under cage is 22 inches. Please ensure your dog will fit while sitting prior to ordering.
Use of a bicycle bracket brace (included) is required when carrying dogs in this basket. This is a very large basket. The bracket will ensure correct alignment on your bicycle and help properly distribute the dog's weight to the bicycle.
Includes three faux leather straps with cage and a front mount bracket to mount your bicycle's handlebar. 
Please see our complete line of Basket Accessories for beautiful handmade liners and pillows that fit this basket.
Will your dog fit? See our Fit Guide to ensure a proper fit.
Product Dimensions:
Shape
Oval. Small on bottom and tappers to larger opening on top

Dimensions


Bottom inside width - 15 x 10 in  

Top inside width - 17 x 14 in

Height of basket wall - 14 in (Height is reduced one inch when using a pillow)

Height under cage - 22 in

Recommended for dogs up to 28 lbs

Color
Natural
Material
Willow
This is a handmade product: Dimensions may be off by as much as 1/2 inch
Designed by Beach and Dog Co and sold exclusively at beachanddog.com
Great quality but would benefit from small changes
The basket seems to be great quality. A few things I would change about it - the straps that attach the wire cover to the basket are a little loose and don't seem well thought out. It would be great if they were more like removable hinges? It is not easy to remove from the bicycle after placement so I would not recommend this for someone who wants to take it on and off constantly.
This Jack Russell is one happy dog!
I bought this basket with cage because my Jackie had learned to get out of his pet stroller by squeezing through the small opening around the zipper. As with most Jack Russells; my guy is a runner. He recently ran out our front door and ran across a road with heavy traffic. His guardian Angel was doing overtime. I was at my wits end because he loved being outside. I decided to take a chance with the Monterey basket with cage and he took to it immediately. He loves it and the smiles we get from everyone when they see him in his basket are priceless. Having him on my handlebars is a learning process but well worth the effort. The only change I would make is to buy two additional straps to anchor the basket. The three that come with it work well but it would make me feel better to have the additional straps. What a fantastic product!❤️