Monterey Front Mount Bike Basket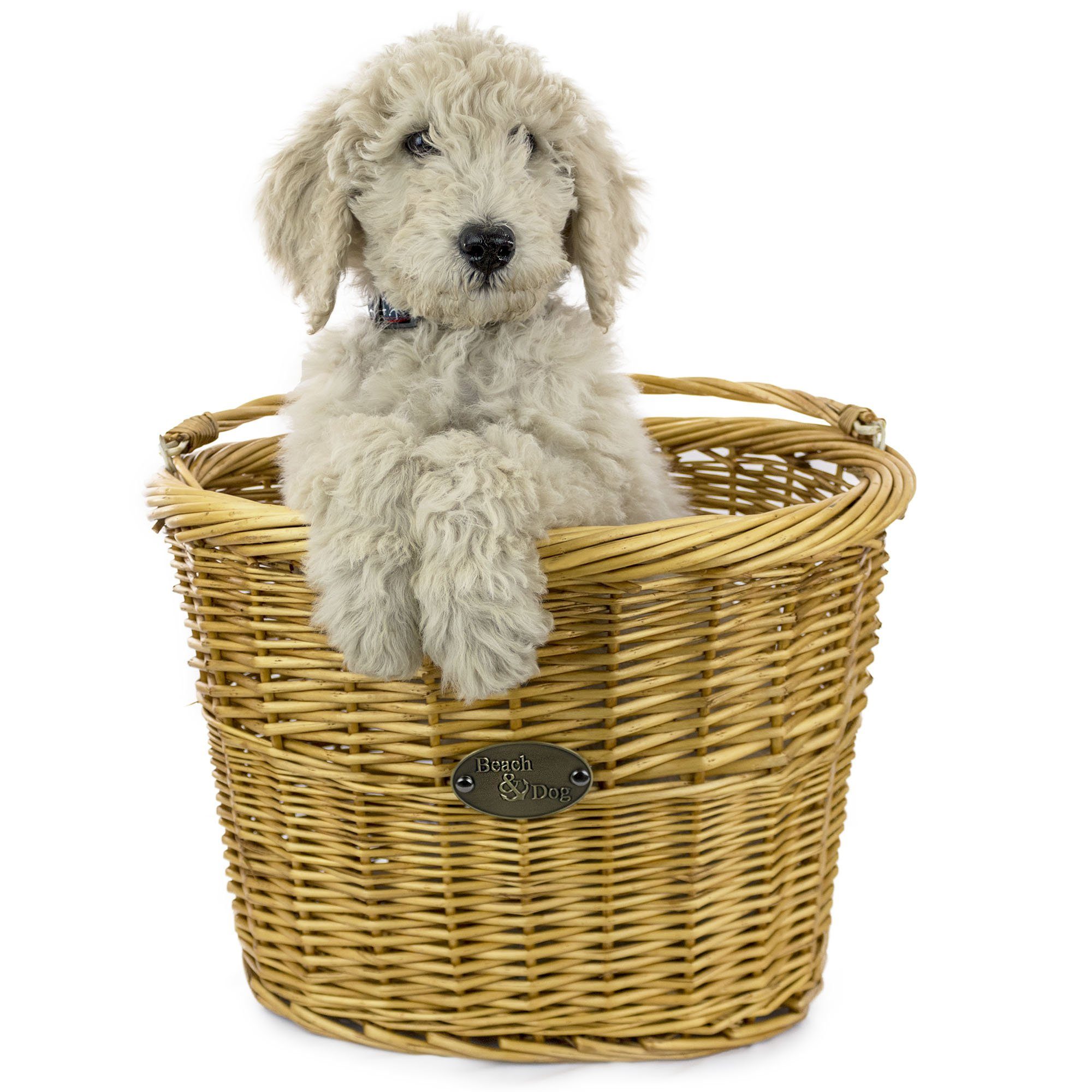 Out Of Stock!
We will notify you when this product becomes available.
Monterey Front Mount Bike Basket
South of the Monterey Beach Hotel resort, Monterey State Beach is a beautiful dog friendly beach where you and your pooch can walk on the beach while collecting driftwood and rare seashells. The beach is home to many type of marine mammals, including sea otters, harbor seals, and bottle nose dolphins. With miles of scenic bike trails, you and your best friend can spend hours cycling around this small slice of heaven on earth.
Our Monterey front mounted basket is designed around a metal frame for maximum durability and coated with a clear resin to protect the lovely hand woven willow from the salt air and sun. It includes metal hooks that connect to your handlebars or to the basket brace, and a steel reinforced handle in order to conveniently carry your items when you're not using your bicycle. Along with the Assateague, this is the largest bike basket you can purchase for your pet.
Use of a bicycle bracket brace (included) is required when carrying dogs in this basket. This is a very large basket. The bracket will ensure correct alignment on your bicycle and help properly distribute the dog's weight to the bicycle.
Includes Two (black) basket leashes and a front mount bracket to mount your bicycle's handlebar. 
Please see our complete line of Basket Accessories for beautiful handmade liners and pillows that fit this basket.
Dogs should always be secured with a Basket Leash (included). Other colors available.
Will your dog fit? See our Fit Guide to ensure a proper fit.
Product Dimensions:
Shape
Oval. Small on bottom and tappers to larger opening on top

Dimensions


Bottom inside width - 15 x 10 in  

Top inside width - 17 x 14 in

Height of basket wall - 14 in (Height is reduced one inch when using a pillow)

Recommended for dogs up to 28 lbs

Color
Natural
Material
Willow
This is a handmade product: Dimensions may be off by as much as 1/2 inch
Designed by Beach and Dog Co and sold exclusively at beachanddog.com
My dog loves bike ride
I have Liv Alight 3 XS (reference dimensions annotated in the image) and this basket and the mounting bracket fits my bike no problem. The only one issue I have, which I should have known and forgot about it, was I should tape around the head tube/stem (?) before mounting the bracket. Because the bracket will rub against the head tube, the bracket will scratch the metal tube. So, might be a good thing to tape around the head tube to give some protection from rubbing/scratch. My dog weights ~25lb and it is near the max end of weight limit, but it works for casual neighborhood cycling. Will have to test the longer duration/distance to see how my dog handles that next.
Nice Basket
This is a huge and sturdy basket- it had a few dings on it, which isn't unusual in a natural product. The basket is massive, and easily fit my 24lb dog. However, and I'm quite sad about this, the basket did not fit my bike. I have a Cannondale Adventure, and the hooks on the basket were too small to go over the frame correctly, which meant it didn't seat well and would not be safe to use with my dog. It cost me $40 to return the basket, so if you have a bike with a thick frame, you might not want to order this one.
Best Basket Ever!!
I do not have a dog. But, this is the perfect size basket for EVERYTHING!!
Shopping, going to the beach, etc.
LOVE
LOVE
LOVE!!!!!
Awesome basket!
The basket is huge, sturdy and very well made. Goes on and off the bike easily. We bought the larger one even though our biggest jack Russell weighs 18 pounds so they have extra room. No training needed, they fight over who gets to go for a ride first. Already getting lots of compliments and haven't left the neighborhood yet!
Fantastic Buy!
I purchased this basket after trying a couple of other bicycle baskets that were just not comfortable for my dog. My 25-pound Frenchie just loves this one. It fits him perfectly, with room to spare. It's deep enough that I don't have to worry about him bouncing out. I like that the basket is solid, so it is not 'flopping around' like the canvas one did. I got a hot pink liner to match my bike, and it looks so great. You won't regret this purchase. I can tell it will last for years to come and I'll have lots of miles of riding with my dog. I'll be a Beach & Dog Co. customer from now on!